110

Extraordinary transport capacity

» efficient fleet management

Shortest embarking and disembarking times

» short "turn arounds"

Aluminium body

» more than 25 years of vehicle lifetime

Engine/drive train developed especially for airport use

» unbeatable cost efficiency

Passenger doors on both sides

» more mobility and flexibility on the apron
SPECIFICATIONS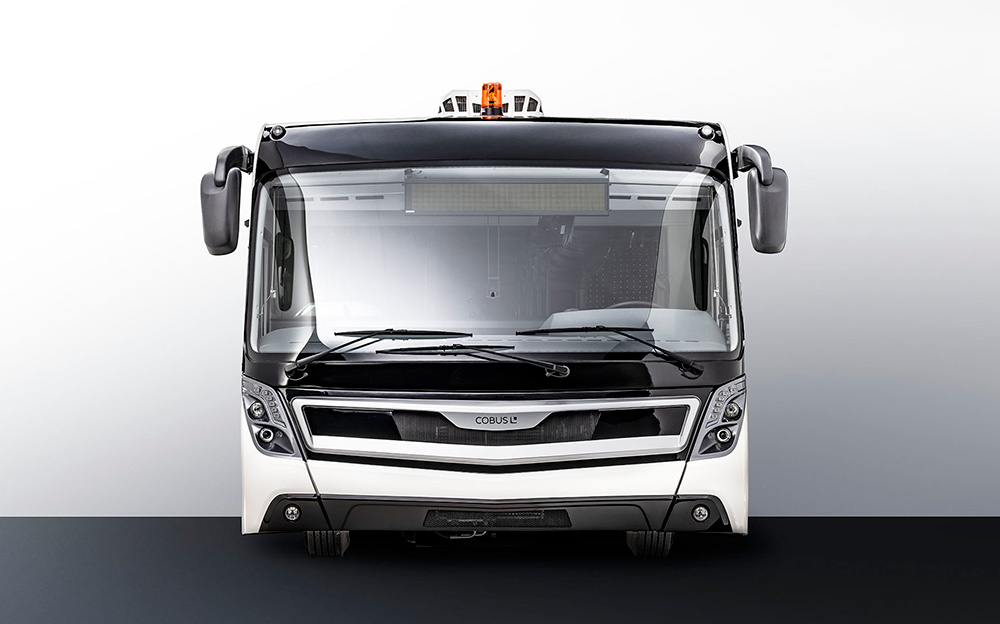 UP TO 110 PASSENGERS
comfortably fit into the COBUS 3000 (according to IATA AHM 950).
This is double the passenger capacity that fits into a normal solo city bus. Short "turn arounds" optimize terminal capacities. The transport concept of the COBUS ensures the most comfortable, efficient and quickest method of connecting passengers to remote positions.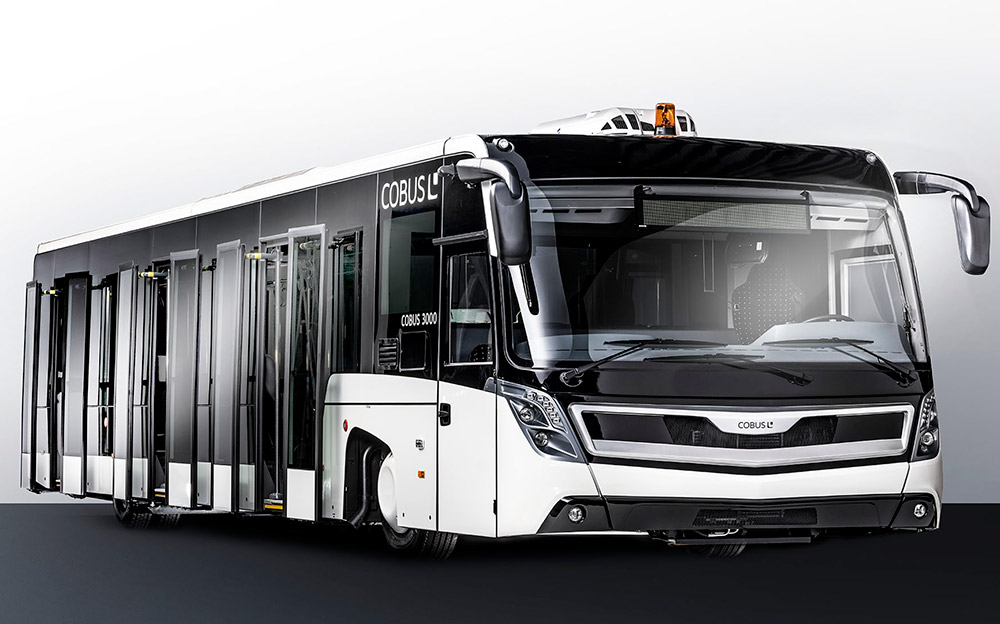 THREE OVERSIZED DOUBLE DOORS
at each side of the vehicle allow fast and easy embarking and disembarking.
The pneumatic "kneeling system" ensures that passengers have a safe and comfortable step height, thus making both entering and exiting a short time process. The "two way exhaust system" automatically leads the exhaust fumes to the side of the bus opposite the open passenger doors.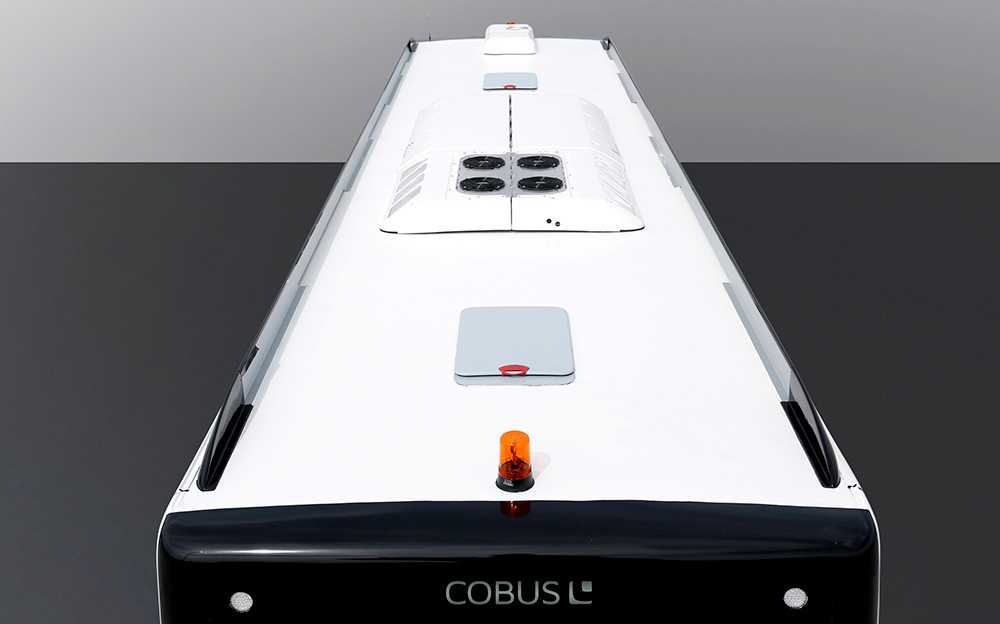 AN OPTIONAL AIR CONDITIONING SYSTEM
for the passenger compartment is offered for especially hot and tropical regions.
Whilst air conditioning of the driver's cabin is standard equipment, the COBUS can be executed with different air conditioning systems according to regional climate conditions. Even retrofitting a passenger compartment with an air conditioning system is possible.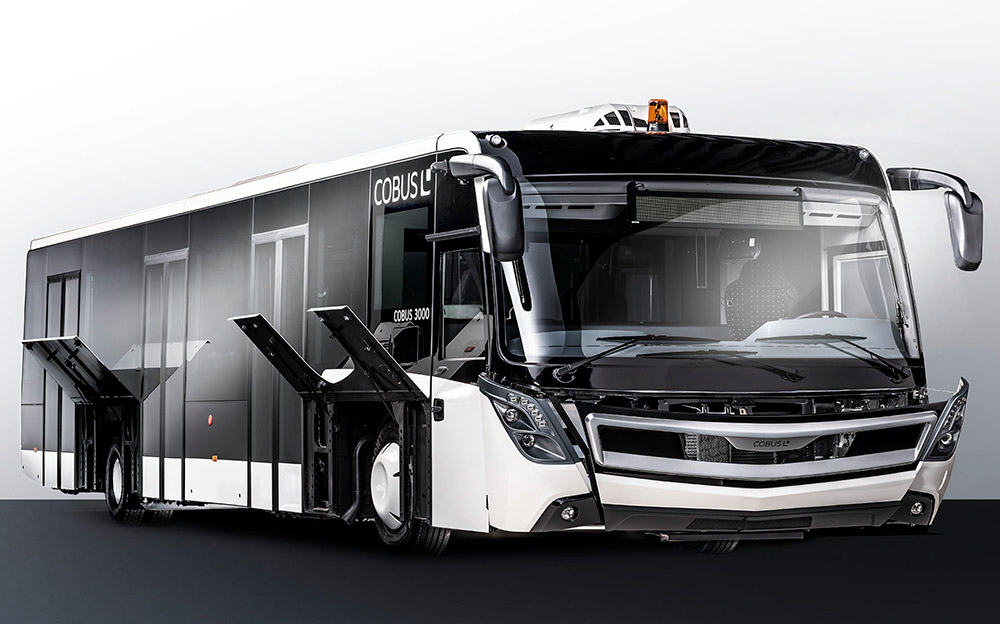 SERVICE FLAPS
situated all around the vehicle allow direct access to maintain relevant components.
Should any of these panels be damaged during tight manoeuvring on the ramp the relevant part can easily be exchanged with very short or even no down time of the vehicle.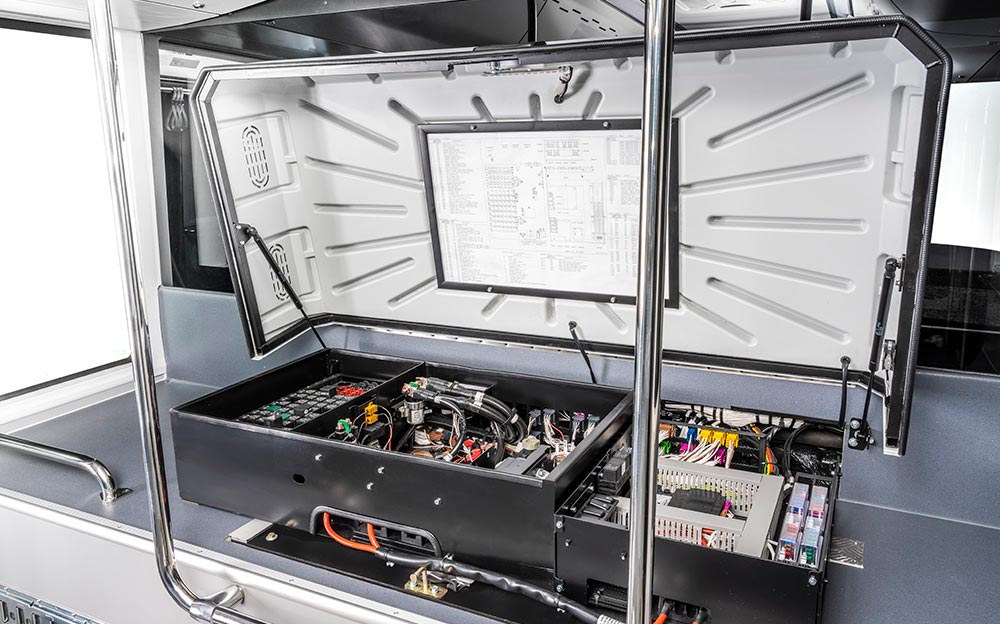 MANY OF THE COMPONENTS RELEVANT FOR MAINTENANCE
are easily accessible in the passenger area.
Simple maintenance procedures can, therefore, be taken care of without the need for workshops and the associated down times.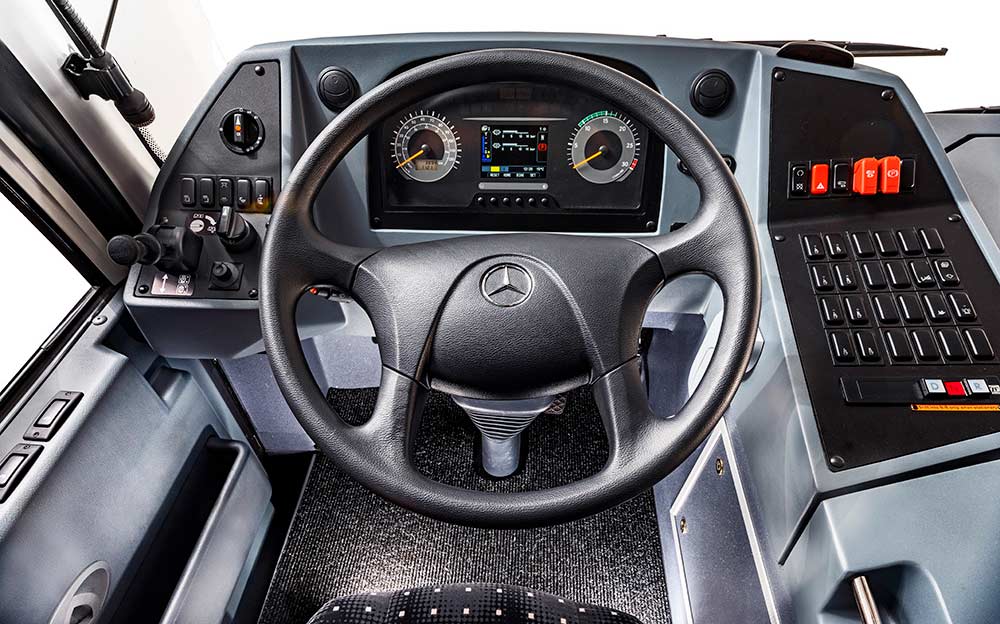 THE ERGONOMICALLY DESIGNED COCKPIT
including an adjustable steering column and driver's seat grants tireless driving.
Large rear view mirrors allow an excellent all-round vision in the COBUS – creating perfect conditions for safe and accident-free manoeuvring on the busy ramp area.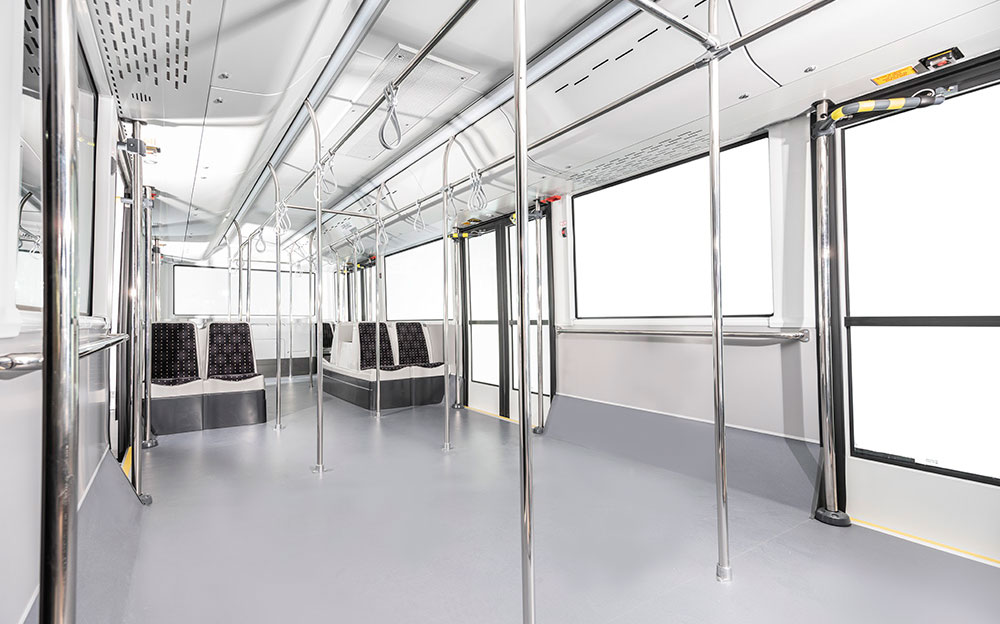 THE COMBINATION OF MATERIAL AND COLOR
for the passenger compartment meets highest standards and expectations.
Up to 14 seats enable a relaxed and comfortable stay on board the COBUS, and the optimized arrangement of the hand rails ensures safety everywhere inside. Foldable side windows, an exceptionally high interior ceiling and two electrically operated roof hatches guarantee a comfortable and pleasant atmosphere throughout the passenger compartment.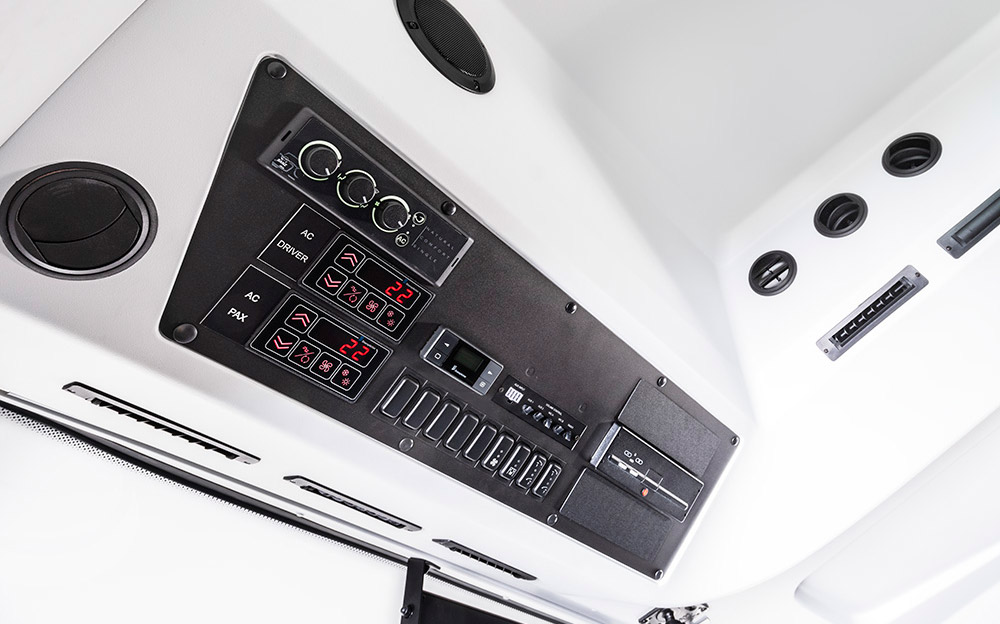 OPERATING DISPLAY
in the driver cabin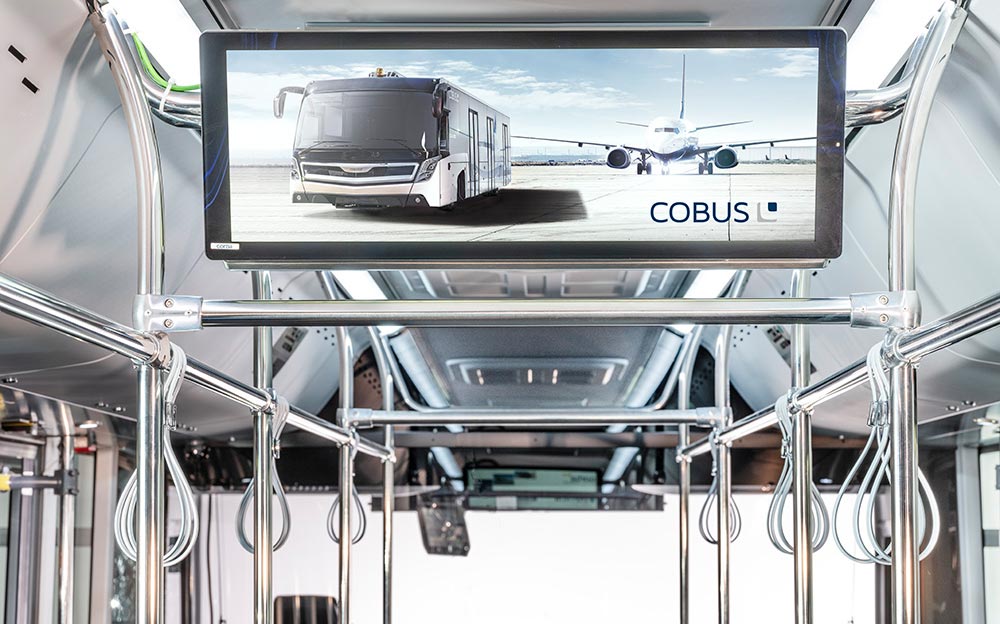 INFO DISPLAY
in the passenger compartment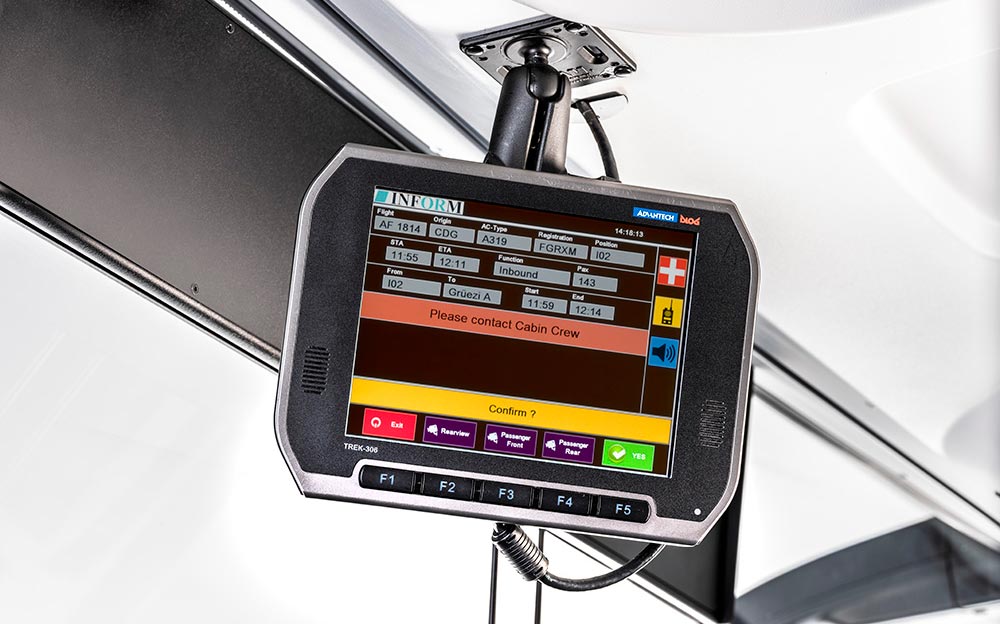 INFO DISPLAY
in the driver cabin
Did we attract
your interest?
Kindly fill in the "request for quotation" form to
receive your personal quote.